Description
A fully configurable bidirectional gateway for all Vanderbilt (Siemens) SPC intrusion panels.

Features
The interface is fully bidirectional and supports three types of communication objects:
– events: when particular things happen, the panel raises events. We support 135 types of events, which can be configured to many hundreds of different actual communication objects! Eg: an object to tell : User X has successfully opened door Y, Intrusion alarm in area Z, Engineer on site, …
– commands: we support 26 different types of commands (on doors, areas, zones, users, panel, output, audio) that can be send to the panel. These can be configured to many hundreds of different communication objects. Eg. Arm area 2, Arm all areas, Momentarily open door 3, Silence all bells, … Typical delay between KNX telegram and SPC command at panel is 100ms.
– status: we support 24 different types of status informations. Combined with the numbers of elements (doors, zones, …) this results in many hundreds of possible status communication objects. Typical delay between SPC & KNX status change is less than 100ms.
You can find details about all supported types of communication objects in the annexes of the setup guide, available in the Download section.
Due to the extreme flexibility of object configuration no external logic is needed to realise the entire functional integration. Features include: free choice of data type, telegram value conversions, 1-n, n-1 or n-m relation, value filtering, …
One can easily imagine 1000 different communication objects and group addresses. There is no real limitation.
Additional features
– KNX-IP router & tunnel, which can be used to connect ETS to the KNX bus, with advanced filtering options
– communication logger GUI
– alerts and techncial logger for troubleshooting
– backup – restore – upgrade from GUI
modbus support
The main modbus features are:
– bidirectional modbus support (KNX & modbus are transparant)
– acts as modbus slave (server)
– support for modbus TCP and RTU (RS232-RS485)
– all SPCway communication objects are available (technically 'limited' to 8000 registers and 8000 coils)
– fully configurable from the embedded GUI, profile automatically generated
Vizualisation
Main characteristics:
– several building/floors/level structures can be set up
– support for objects, gauges, frames, cameras, links, graphs, labels, pincodes
– visual aspect is 100% freely configurable (layout, resolution, icons, graphics, CSS style, …)
– suits large projects where SPCanywhere is inadequate
– allows integration of entire KNX vizualisation
Contact us with question about all possibilities we support.
A basic HD example of the vizualisation that can be realised with the SPCway+ variant: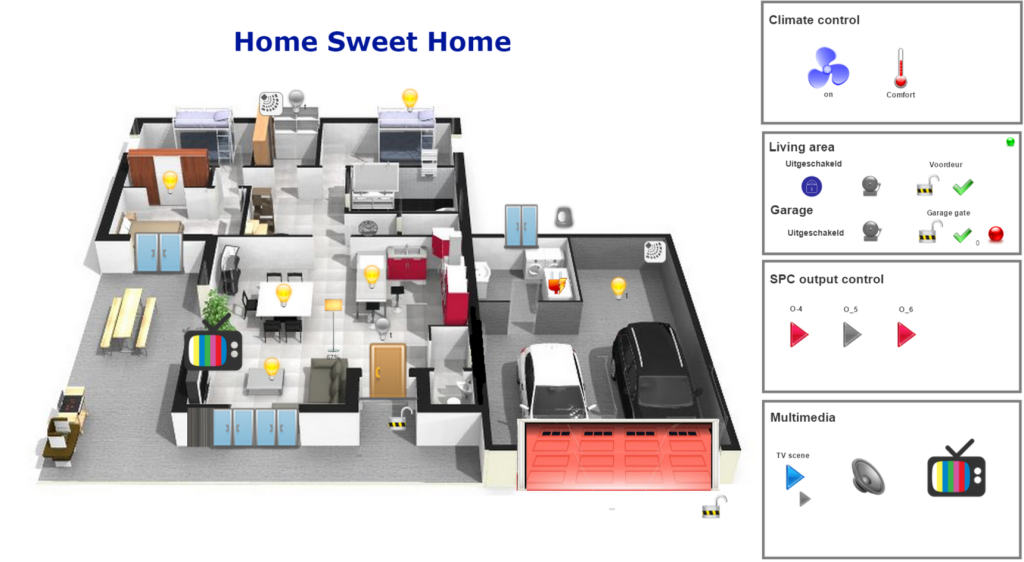 BACnet & API: endless integration options
The SPCway can also be used in other integration schemes:
– the SPCway Plus fully supports BACnet (transparantly synchronised with KNX & modbus interface)
° acts as BACnet server, serving all objects to your BAcnet clients
° automatic conversion to Binary and Analog data types (BACnet has no support for text data type which KNX and modbus does)
° bidirectional: both status/events and commands are supported
– The SPCway has an easy to configure API for diverse intergration solutions
° http/https
° json/XML
° read/write
° rights configurable per object (security)
Configuration
Everything is easily configurable on the gateway; no need to get into the panel configuration to modify the communication objects.
In the panel you only need to configure the gateway once as a trusted EDP-client.
Screenshot of the main configuration tab: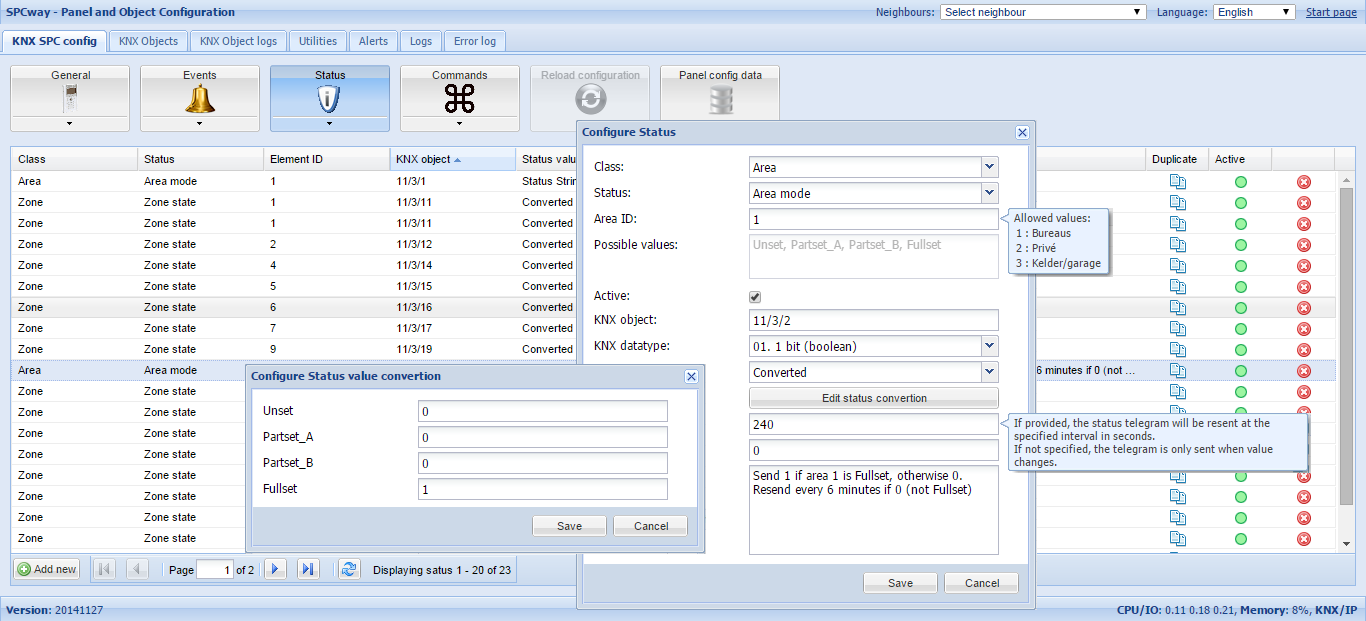 Video of the entire GUI:
Security – certification
If you need to limit the allowed commands for security reasons: this is configured inside the SPC panel, so this will not brake your system certification.
EDP is part of the certification scope of the SPC panel. The master of the certified EDP connection is the SPC panel.
The SPCway supports EDP Encryption.
Installation time
The physical & electrical installation time is merely a few minutes: connect power, LAN & KNX. The time needed is mainly determined by the time to configure all needed communication objects.
All configuration is done through the embedded webserver, without need for ETS.
If you wish ETS support, then the dummy device technique is used.
Requirements
The product supports all present and future SPC intrusion panels which have at least 'EDP over TCP V2'. In practice that requires:
– a panel with a LAN connection to your LAN network
– firmware version 2.3 or higher (dates 2011-2012). If needed you can always upgrade your SPC panel to the latest firmware
– power : 12-24VDC, < 2Watt (from SPC panel, KNX or dedicated PSU)