Description

Why the ComfoWay?
Manage your unit trough visualisation for PC / tablet / Smartphone
Integrate your unit into your smart house through KNX
Integrate your unit into your smart house through modbus (released shorty and available by upgrade)
Integration functions from real case projects:
Improve energy performance & thermal comfort by integration in control and command of other techniques
•E.g.: Comfort temperature ComfoD = set temperature heating
•E.g.: Week program ComfoD = week program heating/cooling
•

E.g.: door & window status -> modify ComfoD volume

Improve ease of use

•Integrated in overall building management system

•E.g.: activate Burglrary alarm => away => adapt ComfoD volume to 'away' (A) modus

•E.g.: send an SMS or Email in case of fault or filter clogging
Compatible ventilation units
If you can control the ventilation unit with the CC-ease or the ComfoSense, then you can control it with the ComfoWay. This includes units of different brands and model names: Zehnder, Wernig, StorkAir, ComfoAir, ComfoD, WHR, VMC, G 90 and more. Contact us if in doubt.
Supported communication objects
More than 90 objects supported, including 29 command objects.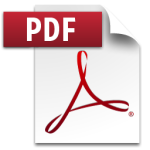 WHR_GatewayCommunicationObjects_V1_18
Installation
A few minutes to get rolling: from out of the box till controlling your unit.

With our new RJ45 Quick Connect cable: no more screwdriver required.
Simply snap your ComfoWay on a DIN-rail and plug the RJ45 in the base or luxe board of your unit.
Configuration
No tools needed to configure: all configuration is done through the built-in webserver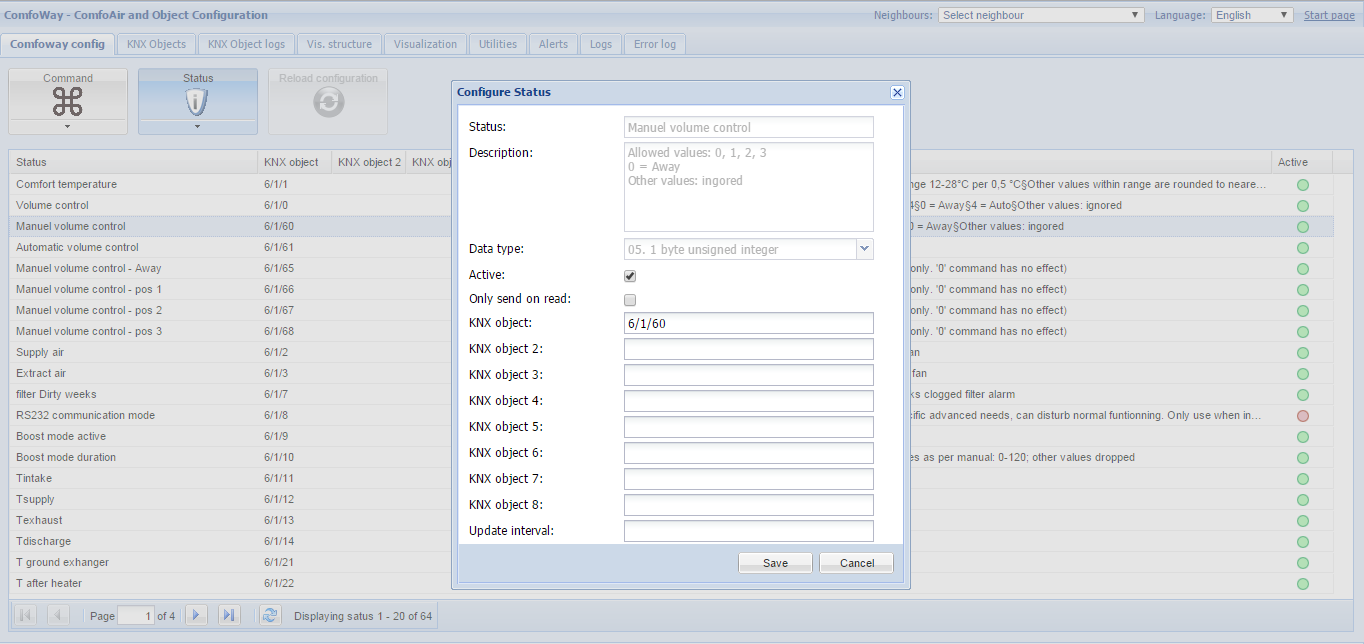 Tablet & PC use
The interface is fully touch enabled and can be used on PC as well as on tablet.
Some of the most used screens are shown below.
The default control page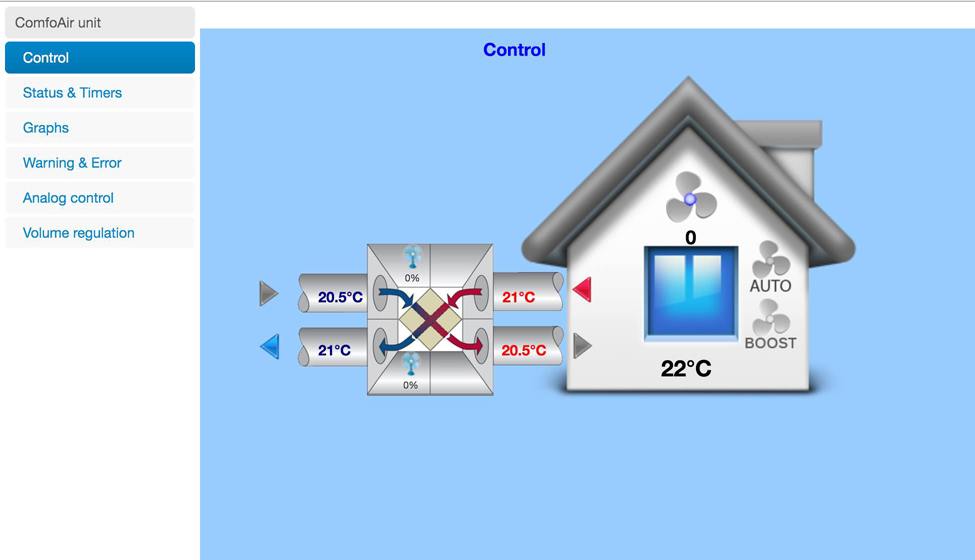 The status page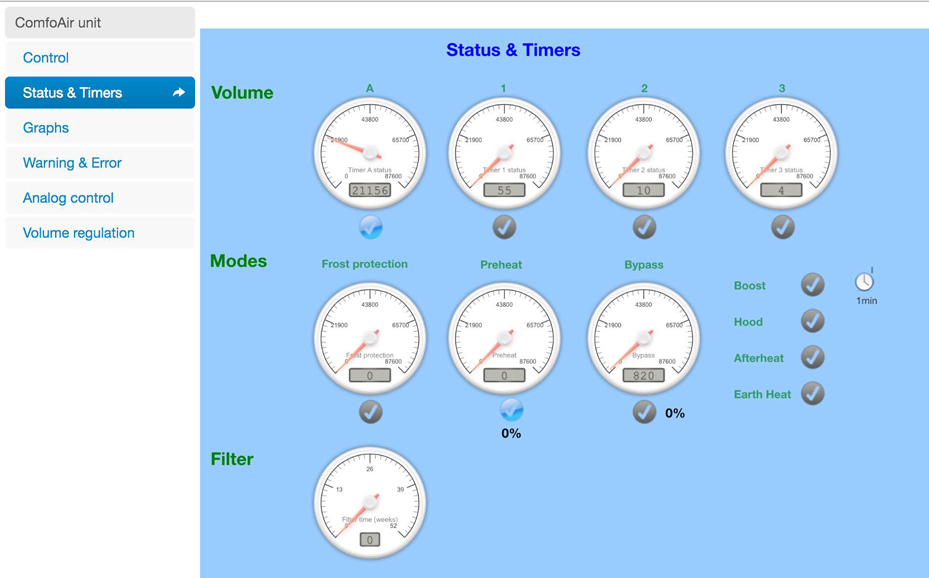 The graphs page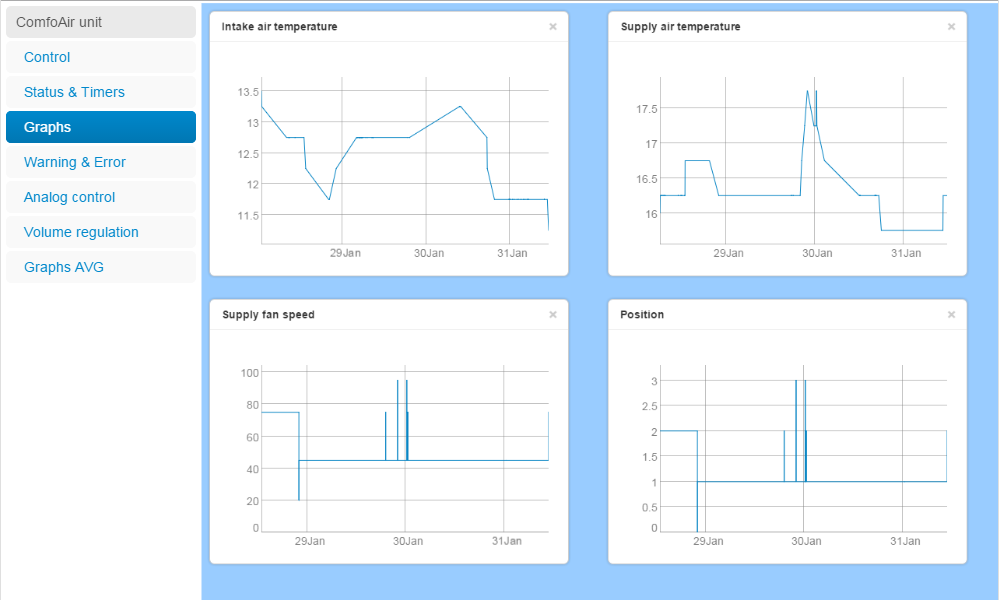 Smart (phone) interface
The Smart touch interface is optimised for use on smartphone with small screens. It optimises itself to landscape/portrait format.
A collection of the screens:



As can be seen, the advanced installer settings are pincode protected by default.
Visibility, pincodes, etc can all be tuned to your needs easily.
Additional functionality
Aside the most obvious functions, the ComfoWay also provides the following functions:
KNX-IP gateway (EIBnet/IP) with object filtering. This replaces the need for a seperate costly IP or USB interface. ETS4/ETS5 autodiscovers the ComfoWay. It has detailed filtering options and secure tunnel.
Schedule automatic ventilation actions from your smartphone or tablet. Includes weekprogram, holidays, …
fully customisable vizualisation, ready to be integrated in other vizualisations. For an example have a look here.
data logging of your unit: need to investigate specifc behaviour, or need to service the unit? Have a look ik the logs and trend graphs
retrieve the status of your unit by XML, to integrate data in other vizualisation platforms, independant from KNX.